There are a variety of topics that the mainstream media  covers on a daily basis. These topics are chosen keeping in mind the TRP ratings and their political leanings. There are a lot of issues that the mainstream media  gives more than required mileage. To name a few, we have the Rohith Vemula suicide (many many other suicides take place on a daily basis), Sheena Borah murder, the daily drama performed by the so-called female activists, the much hyped 'intolerance' in the country and so on. There are another set of serious issues which are not given the importance they deserve. This article attempts to list down some of them.
1) Black money and corruption in real estate
Real Estate is an industry that is built on black money and is as big as a tenth of the economy in India. The extent of black money floating in this sector is huge and is in fact bigger than the black money stashed abroad.
Undervaluation of property has become a common practice (almost a norm) and there are lots of transactions that take place in cash. This suits the buyer as well as the seller of the property. The buyer pays VAT, registration fees and stamp duty to the government as a percentage of the registered value. So, if the property is undervalued, then the buyer would end up paying less tax than what he would in case of a clean transaction. The seller, on the other hand would have to pay capital gains tax on the registered value and when the property is undervalued, the seller would also end up paying lesser tax. As it suits both the parties, the registered value is accounted for and the balance money is black money. One single transaction results in lakhs of black money generated. One can now imagine the extent of black money that is floating all over the country. Mainstream media seems oblivious to the menace of Black Money in real estate sector.
Unfortunately, this has not been spoken about much by anyone and no politician has attempted to clean this up.
2) Drunken Driving
On 9th June 2015, corporate lawyer Jahnavi Gadkar, in an inebriated state got into her Audi and drove 11 kms on the wrong side of the road at 120 kms/hr. In the process, she got a taxi driver Mr Sabuwala killed. Worse, Jahnavi has been granted bail against a surety of Rs 30,000 after spending just 57 days in Jail. The sessions court judge observed that since Jahnavi is a woman, she must be treated differently. Even worse, Jahnavi has even managed to get her driving license back after she submitted the required endorsement from the Regional Transport Office (RTO).
The above is not an isolated incident. As per the Community Against Drunken Driving (CADD), there are nearly one and a half lakh fatalities due to road accidents every year and it is estimated that as much as 70% of these deaths are due to drunken driving.
Unless stringent punishments are given to those who drink and drive, the number of such deaths will only increase from here on. The cases of Drunken Driving must be addressed in the mainstream media.
3) Child Labour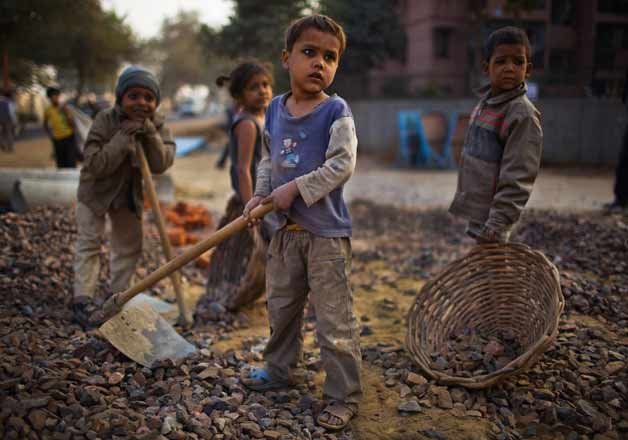 The problem of child labour continues to pose a challenge before the nation. Child labour is essentially a socio-economic problem inextricably linked to poverty and illiteracy. Recently, the government amended the child labour laws allowing children below 14 to work in family businesses and entertainment industry 'to create a balance between the need for education for a child and reality of socio-economic condition and social fabric in the country'. The amendment also introduced a new definition of 'adolescents' – children between 14 and 18 years of age, who are barred from working in hazardous industries.
The reality is, one in every eleven children in India is working. More than 5.5 million working children in India are concentrated in 5 states: Maharashtra, Madhya Pradesh, Rajasthan, Bihar and Uttar Pradesh. Adolescents doing hazardous work for 20.7% of those employed in this age group. There have been deaths due to children working in the hazardous industries, most notable the fire cracker industry. The places where children are exploited the most are agriculture, quarrying stones, mining coal, forced labour in producing garments, domestic work.
Unfortunately, this grave issue is not covered much by the mainstream media and not given the attention it deserves.
4) Population explosion
India is currently the second most populous country in the world with a population of over 1.25 billion. The huge population explosion is the root cause of much of our problems. The limited resources of the land-mass and the ever growing consumers makes it difficult to have India at balance in its consumption and production of resources, whether in the form of natural resources like food and water or in resources like electricity, roadways, education etc. A large percentage of the population in India is still uneducated and even to this day, there are people who have more than 2 children. Although successive governments have been trying to make people literate and educate people about the need for population control, there hasn't been much progress on this front. It is time the government implements stricter measures like increasing the taxes for people who have more than 2 children. With population in control, it would be much easier for India to enable better quality of life for its citizens and also to keep the environment clean. Population doesn't seem to be an issue for the Mainstream Media.
5) Child Prostitution
In India, nearly 1.2 million sex workers are below the age of 18 years and 40 underage girls are being forced into prostitution on a daily basis. With 8% annual increase in flesh trade, India has become one of the prominent names in child prostitution. Out of poverty and desperation, parents sell their daughters to human traffickers, who then force them into the flesh trade. Once they get into the flesh trade, there is almost no realistic chance of escaping. Some of these girls are also 'exported' to foreign countries by the traffickers. The local policemen are also generally in connivance and choose to look the other way after taking a bribe by the traffickers. There are a lot of well-known brothels in some of the capital cities where child trafficking and prostitution take place, but this issue has never got the coverage it deserves by the mainstream media.
Get real time updates about our posts directly on your device