While Lord Shri Krishna is hailed as the Karmapurush, Lord Shri Ram is called the Dharma Purush, someone who was steered by the laws of ethics all through his life. Rightly called the Maryadapurushottam, Shri Ram is someone who followed a strict code of conduct in every facet of his life. Ram's feats as a dutiful son, a loving husband, an affectionate brother, an inspiring chieftain and a fierce warrior are well known. But there is also one startling fact about Lord Ram which probably needs to be followed more than ever. Shri Ram was somebody who was over and above the superficial demarcations of castes. Shri Ram was the mascot of equality. Oddly Shri Ram has become the central figure of a Hindu Movement which is largely seen as Brahminical.
These 4 incidents from Shri Ram's life prove that he believed in equality and lived by it.
Shri Ram's friendship with Nishadraj Guha
Nishadraj Guha was the King of a small kingdom called Kevati which stretched along the banks of Ganga. Nishadraj Guha was an Adivasi (Tribal). After getting exiled from Ayodhya, Shri Ram spent few days in Guha's kingdom, sleeping on the beds made out ferns and foliage as was the custom with Advasis and eating with Guha whom he considered as his own brother. In an interesting anecdote, Guha prepares his army to attack Prince Bharata who comes to meet Shri Ram in Kevati along with his entourage. Guha thinks that Bharata has come to Kevati to attack Shri Ram who later explains him that Bharata came to Kevati to persuade him to return to Ayodhya. After slaying Ravana and establishing Ram-Rajya in Ayodhya, Shri Ram gives Nishadraj Guh a seat in his royal court.
The fact that Ram was the scion of Ikshvaku Vansh and a noble prince by birth and that Guha was a tribal never crossed his mind. He appreciated Guha's compassion and repaid it in every way he could.
Kevat ferries Shri Ram across the river.
Kevat was a sincere devotee of Shri Ram. He belonged to the caste of boatmen, considered lowly by the standards of that era. He expressed a heartfelt desire of washing Ram's feet and bowing to the soil beneath it before letting him into his boat. Shri Ram complied. Kevat then, ferried Shri Ram, Lakshman and Mata Sita across the river. Mata Sita gave one of her rings to Shri Ram to be presented to the boatman as his payment. Kevat squarely denied. He said he can't expect payment from somebody who is from the same profession. None of his passengers understood this sly remark. Kevat then explained that Ram ferries people across Vaitarni (The cosmic river to be crossed at the end of one's life) and he ferries people across the Ganges so fundamentally both of them are boatmen. Shri Ram was overwhelmed with this analogy. He embraced Kevat in his arms and granted him Mukti from material world.
Ram eats Shabari's berries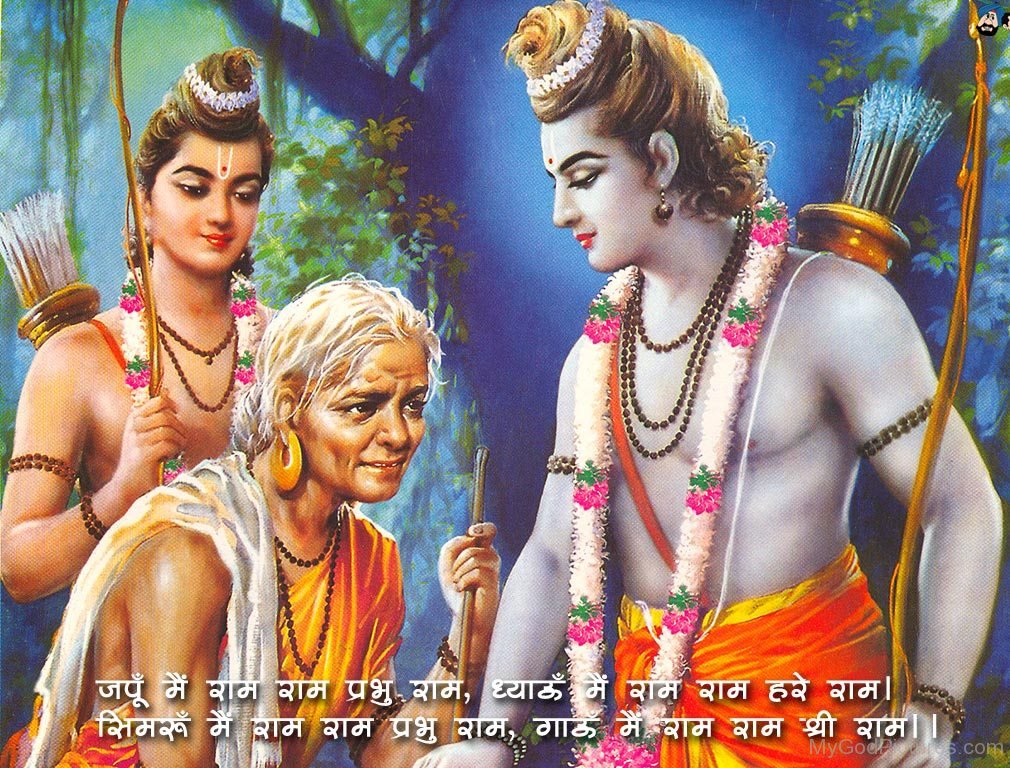 The night before her marriage, Shabari saw thousands of animals tied in her house. They were supposed to be slaughtered the next day. She was a hunter woman and her father had big plans for her marriage. She didn't want to become the reason behind the butchery of so many hapless animals, hence she left her father's home and ran deep into the forest. She went to many hermitages in quest of Brahma Gyaan but every sage turned her down citing her low caste as the reason. She finally found a mentor and redeemer in Rishi Matanga who took her as his disciple. Other Rishis condemned Matanga and started calling him an impure Rishi. Matanga however remain unfazed and Shabari indulged herself in the cleaning of the Ashram and gaining wisdom.
Years passed and one day when Sage Matang was certain of his end being near, he called Shabari and asked "My Daughter, I'm leaving this physical body, is there anything you want me to do for you?"
Shabari prayed with folded hands and said "Lord take me to your heavenly abode"
Sage Matanga replied "Virtuous lady, one day Shri Ram will come to see you, once that happens, you can come to me"
Shabari waited long and continued living in the hope of meeting Shri Ram. After the Rishi's death, other Rishis of the forest tortured Shabari and even prohibited her from taking water from the lake Pampasar. One day Shri Ram came wandering into the forest. Shabari was overwhelmed and so were the other Rishis. An emotional Shabari invited Ram to her hut. Other Rishis invited Ram to their Ashrams as well. Shri Ram turned down the offers of other Rishis and walked into the modest hut of Shabari. Shabari presented half eaten sweet berries to Ram. She had tasted every berry to make sure Ram gets to eat the best and the sweetest berries. An emotional Shabari watched as a contended Ram ate the half eaten berries. Ram had no qualms in eating half eaten berries of a low caste woman who was censured and derided by other Rishis of the forest.
Ram's friendship with Sugriva, Hanuman and other Vanars:
Vanaras are generally accepted as primates or monkeys. But their literal translation will be Van+Nara (The people of the forest). Vanaras were an exotic tribe in a secluded forest, our current constitutional definition of a scheduled tribe closely fits them. Ram helps Sugriva overpower Vali and reclaim his throne and Sugriva on the other hand helps Shri Ram defeat Ravana, the King of Lanka by providing his Vanar Sena. Lord Hanuman, one of the most worshipped Hindu deities was a Vanar himself and he went on to become the biggest Ram Devotee ever. No Ram Katha is considered complete without the story of Lord Hanuman.
All these anecdotes from Shri Ram's life prove that he was a man ahead of his time. Though he was guided by a strict code of conduct, he never failed in challenging the dogmas and myths. No religious, caste or ethnic group can claim proprietorship of Ram. The very essence of Ramatva is equality, inclusion, acceptance and egalitarianism. Shri Ram is for everyone who believes in equality.
Get real time updates about our posts directly on your device